Winter is almost here, and we are super excited to introduce you to our last very special collaboration: We Are Knitters x Anthropologie. We have always been huge fans of this beautiful American brand. They always surprise us with unexpected and distinctive designs for our closet and home, so to make a collab with them is kind of a dream come true for us.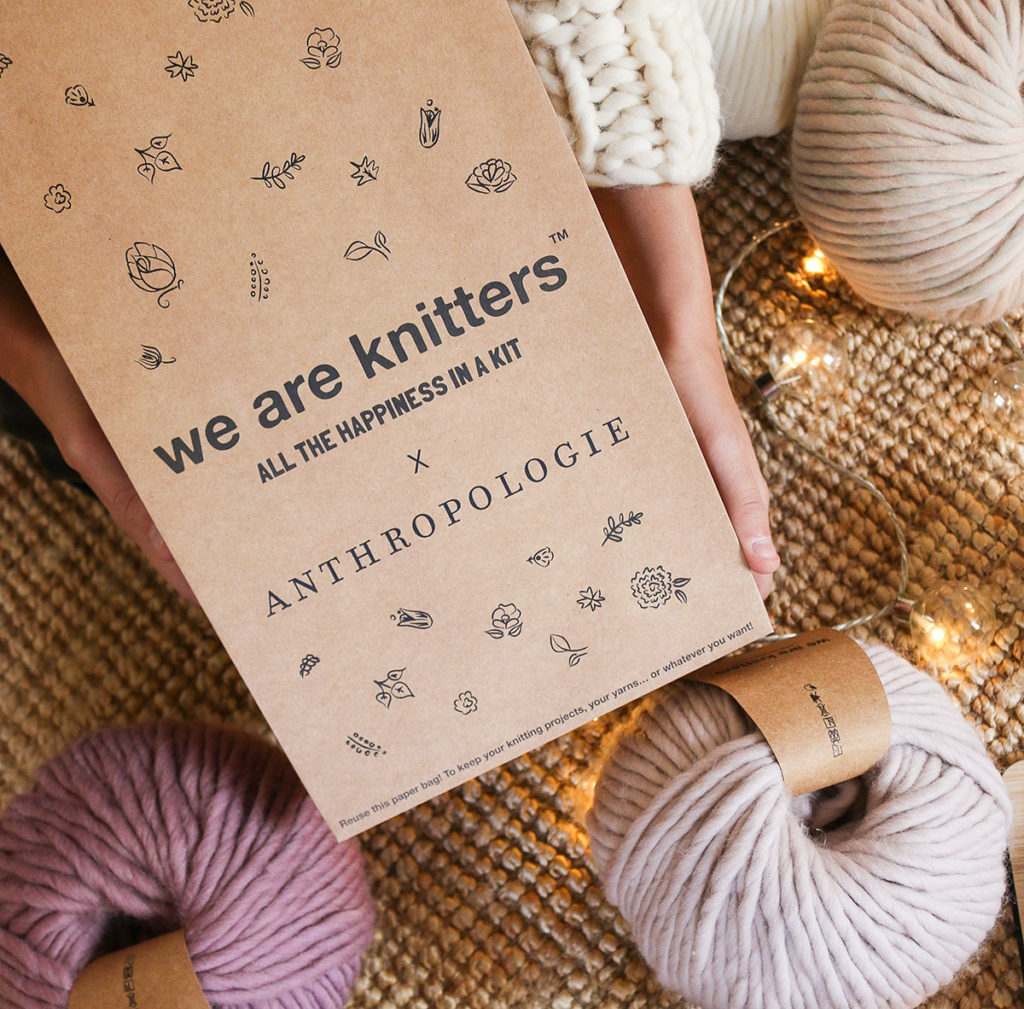 WAK x Anthropologie is the perfect mix and match between fashion, lifestyle and that cozy and warm spirit that we all look for during the coldest months of the year. The result have been four different co-branded kits to knit your Winter essentials: two beanies, a scarf and a snood to be knitted in our big chunky wool. Everyone can make them since they are beginner and easy level kits. Yup, they are the perfect Christmas gift.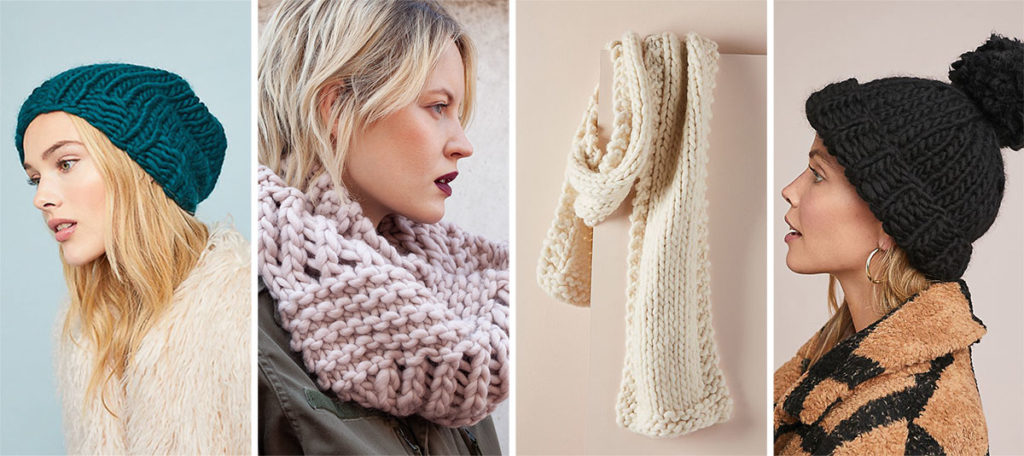 The four knitting projects come in a customized We Are Knitters x Anthropologie bag, adding to the collaboration the perfect easy-cool & boho-chic touch that makes Anthropologie so special.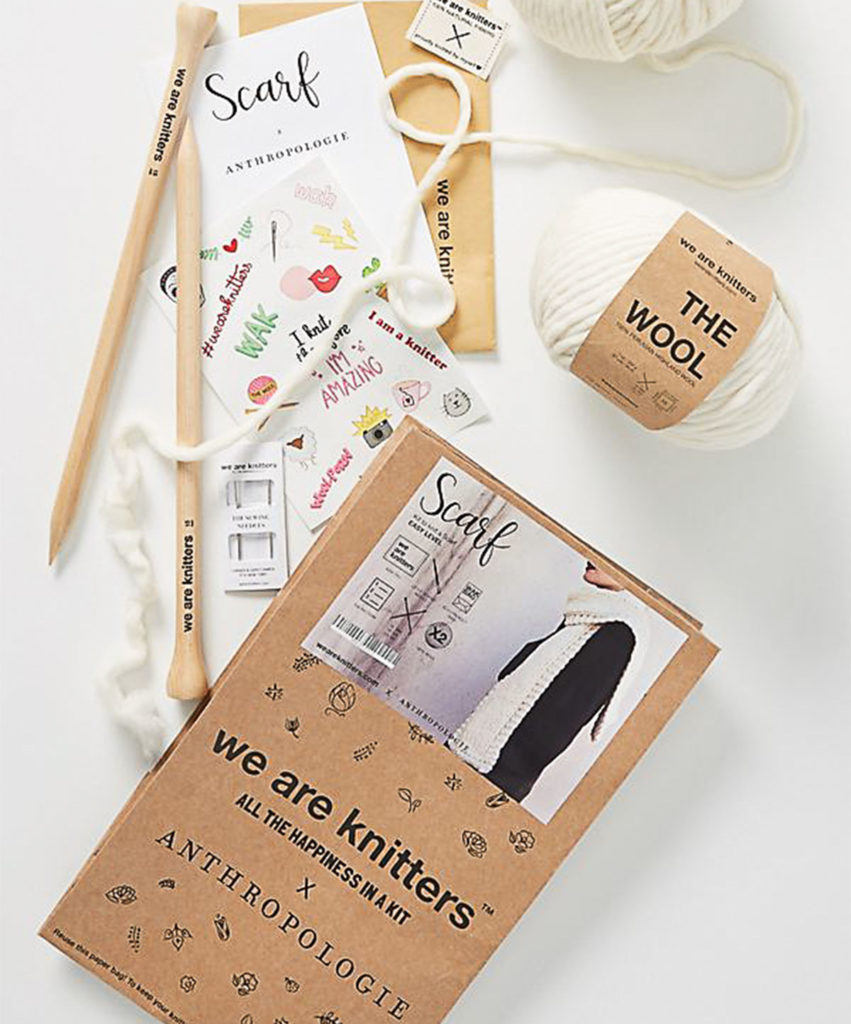 The four kits are a limited edition and will only be available to purchase on Anthropologie. The four kits are also available in the following physical stores in the US:
WAYNE, PA (NA)
BETHESDA (NA)
BEDFORD SQ, WESTPORT (NA)
NEWPORT BEACH, CA (NA)
SANTA MONICA, CA (NA)
CHICAGO AVE (NA)
BEVERLY HILLS, CA (NA)
SEATTLE,WA- U VILLAGE (NA)
BOSTON, MA NEWBURY (NA)
CHESTNUT HILL, MA (NA)
16TH & 5TH, NYC (NA)
ATLANTA, GA-LENOX SQU (NA)
PHILADELPHIA, PA (NA)
SEATTLE, WA-FIFTH AVE (NA)
SAN FRANCISCO, CA (NA)
CINCINNATI, OH (NA)
HOUSTON,TX-HIGHLND VG (NA)
THE GROVE, L.A., CA (NA)
PALO ALTO, CA (NA)
SAN JOSE, CA (NA)
DENVER, CO-CHERRY CRK (NA)
RICHMOND, VA (NA)
DALLAS,TX – NORTHPARK (NA)
DALLAS,TX-HIGHLAND PK (NA)
CHARLOTTE,NC SOUTHPRK (NA)
LONE TREE,CO-PARK MDW (NA)
PORTLAND, OR (NA)
SHORT HILLS, NJ (NA)
WASH, DC – GEORGETOWN (NA)
CARLSBAD, CA (NA)
SHREWSBURY, NJ (NA)
NASHVILLE, TN (NA)
INDIANAPOLIS, IN KYSN (NA)
TROY, MI (NA)
NYC – ROCKEFELLER CTR (NA)
CORTE MADERA, CA (NA)
AUSTIN, TX (NA)
BURLINGTON, MA MALL (NA)
GLENDALE CA AMERICANA (NA)
ROSEVILLE CA FOUNTAIN (NA)
SAN DIEGO FASHION VLY (NA)
DURHAM, NC SOUTHPOINT (NA)
TORONTO,ON YORKVILLE (NA)
NY, NY CHELSEA MKT (NA)
NYC, 3RD AVE AT 71 ST (NA)
WALNUT CREEK DIABLO (NA)
COSTA MESA S.COAST PL (NA)
KING OF PRUSSIA (NA)
BROADWAY AT FULTON (NA)
CENTURY CITY, CA (NA)
For our European friends, you can find them in Anthropologie's London store (Regent St.) and in Dusseldorf (Königsallee ).